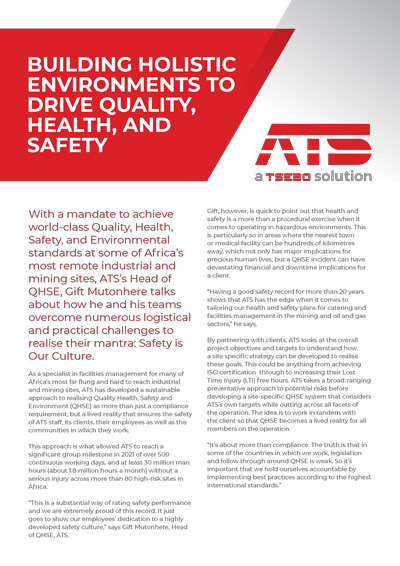 With a mandate to achieve world-class Quality, Health, Safety, and Environmental standards at some of Africa's most remote industrial and mining sites, ATS's Head of QHSE, Gift Mutonhere talks about how he and his teams overcome numerous logistical and practical challenges to realise their mantra: Safety is Our Culture.
As a specialist in facilities management for many of Africa's most far flung and hard to reach industrial and mining sites, ATS has developed a sustainable approach to realising Quality Health, Safety and Environment (QHSE) as more than just a compliance requirement, but a lived reality that ensures the safety of ATS staff, its clients, their employees as well as the communities in which they work.
This approach is what allowed ATS to reach a significant group milestone in 2021 of over 500 continuous working days, and at least 30 million man hours (about 1.8 million hours a month) without a serious injury across more than 80 high-risk sites in Africa.